Recruitment and Enrollment
Significant oral health disparities exist among older low income and minority community dwelling adults in general and in Central Connecticut, and there is little research on these topics that would assist in improving oral health among vulnerable older adults and adults with disabilities. Without proper screening and regular treatment, oral health problems can lead to chronic pain, illness, exacerbation of chronic health problems, and even death. Working with building management we looked to recruit English and Spanish speaking residents into a yearlong program of face to face education and campaigns tailored to their oral health concerns and ability to brush and oss their teeth. 
Our goal was to establish relationships with buildings and their residents to build a collaborative effort to improve oral health of residents and change building norms to favor oral health and hygiene. Prior studies identified a list of 22 buildings in Central Connecticut that were open to collaborating on oral health studies and related issues.  We identified 6 buildings for follow-up because they included a large number of residents. During initial phone calls to the management of each building, GOH staff provided a brief description of the project and requested an opportunity to meet with appropriate housing personnel to discuss the possibility of collaborating.  
Subsequent face-to-face discussions between GOH staff and both the property manager and the resident services coordinator of each building included:
a review of the goals and rationale of the project
duration of the project and specifics of the activities that residents who participated in the study would be involved in, along with any benefits/compensation residents would receive
the roles and responsibilities of both the GOH project and the building management during the study.
A memorandum of understanding between the management of each building and the UCONN, SDM, and ICR outlining in detail these roles and responsibilities was then signed by all parties. During the course of the study GOH staff met intermittently with building management to keep them abreast of on-going project activities. Click here to view a sample memorandum of understanding.
Engaging Building Residents
Building trust and "rapport" (good communication) is critical to recruitment in any clinical trial, and especially in a close community setting such as senior housing.,  Careful planning must be done for the selection of a building considering its location, diversity and culture in preparation for the implementation of the project,. Recruitment starts immediately after the introductory presentation about the project and a few participants will be motivated and willing to schedule a consent appointment immediately after the presentation. 
This is just the first step in the recruitment process.  Fundamental to success in reaching the goals of recruitment  is to build trust in the population in the project. This  requires a positive attitude, recruiter diversity, presence in the buildings, and persistency.  The recruitment team should match the diversity of the population in the building in race/ethnicity, gender and language. As the recruitment team spends time in the buildings interacting with the residents we have opportunity get to know them and learn about their culture, values, and concerns. When we show real interest in their lives friendship flourishes. 
This spontaneous intermingling happens with informal chatting, using music to engage residents, playing and singing their favorite songs, responding to simple requests like helping them with their smartphones or even reading and translating a letter they do not understand. As residents learn that we have something beneficial to offer them, word of mouth spreads through the community that participation in the project is worthwhile. At this point, some participants come spontaneously to express their willingness to participate in the project. 
Others need multiple invitations. On the other hand, some people will refuse to participate even when they know that  they are eligible and understand the possible beneficial outcomes of participation. There may be many reasons why they do not want to participate including concern about the appearance of their teeth, their travel schedule, family obligations, work requirements or general health. All refusals must be respected. But people who refuse are sometimes approached again if they indicate that they might change their mind at a future time. 
Some participants need more time to connect with us and as we listen to them they share life experiences such as the case of a gentleman that lived and worked in many different countries and learned their cultures and languages.  We persist in giving them the opportunity to participate in the project being careful to never cross into coercion. By treating them always with the same positive attitude, we show them respect accepting their decisions. Even if when some of them choose to drop out of the project we continue to offer them support and friendship. This approach smooths the relationships with them and also helps to make sure that those who remain in the study are comfortable doing so and we manage to achieve integration with their community.
Eligibility screening prior to enrollment
All potential participants will be screened for eligibility with the Eligibility Screener prior to enrollment in the study. Additionally, at each study time point participants will be rescreened with the Eligibility Screener to be sure that they remain eligible to participate.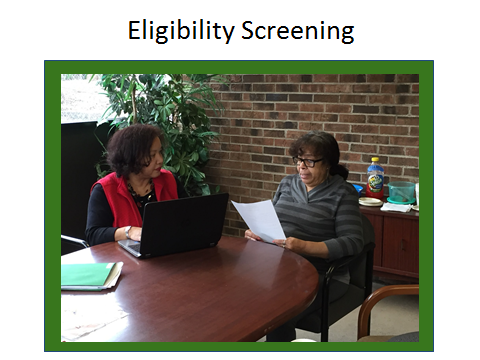 Inclusion/Exclusion Criteria:
Inclusion Criteria:
Disabled children and adults aged 18 years and above, and adults 62 and above, including both male and female building residents, and minorities and non-minorities;
Permanent residence in sample buildings;
Independent of conservator;
Must be able to speak English or Spanish;
Judged competent to participate (based on ability to respond correctly to key questions about information covered during administration of informed consent.
Have two or more remaining natural teeth.
Exclusion Criteria:
Considered by research staff to be cognitively unable to give informed consent;
Exhibition of continued disruptive behavior while participating in the project;
History of infective endocarditis;
prosthetic cardiac valve replacement in past 6 months;
Insertion of an arterial stent in past 6 weeks;
Myocardial infarction (heart attack) in past 6 weeks;
Under conservatorship;
Fewer than two natural teeth;
Currently on dialysis.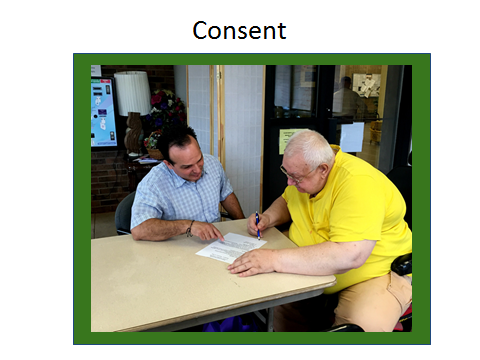 Enrollment/Consent Administration
Once individuals have been screened eligible to participate, they will be formally enrolled in the study. Study staff who will administer the eligibility screening and informed consent will be trained in these processes, including NIH or CITI certification in human subjects protections. The enrollment process will take place in a location that will accommodate participant privacy. All documents, including the Eligibility Screener have been IRB-approved, are available in English and Spanish and will be administered in the individual's language of preference by project staff fluent in that language. Consent documents include:
This consent form provides detailed information about the GOH study and the individual subject's participation. If an individual refuses to sign this form, he/she is ineligible to participate in the study.

Consent Comprehension Form – The Consent Comprehension Form accompanies the general study consent form.
Throughout the general study consent process, individuals will be asked to respond to 5 key questions to evaluate their cognitive ability to participate in the study. Each question is asked immediately after reviewing that section of the consent form but before the document is signed. All 5 questions must be answered correctly. The individual is given 2 attempts to provide the correct responses. If, after 2 attempts, he/she is unable to answer all 5 questions correctly, they are deemed ineligible to participate in the study. The individual will be advised that he/she is not eligible to participate, thanked for their interest and invited to attend the building-wide oral health fairs that will take place in their building. The completed Consent Comprehension Form will be attached to the copy of the General Consent Form and will be filed at the Institute for Community Research. The 5 questions evaluate their understanding of:
The purpose of the study
What activities their participation entails
Risks that might be encountered
Expected duration of participation    
Whether participation is voluntary
Authorization to Use and Disclose Protected Health Information for Research Purposes (HIPAA Form) – Also known as the "Authorization to Use and Disclose Protected Health Information for Research Purposes" form, it requests permission to use and disclose, for the purpose of this study, an individual's identifiable health information. If an individual refuses to sign this form, he/she is ineligible to participate in the study.
HIPAA Authorization to Photograph/Video/Audiotape Form – This form gives study staff permission to photograph videotape and/or audiotape the participant. An individual may refuse to sign this form and still be eligible to participate in the study.
No participant-related activities may occur and no participant data may be collected until the informed consent process has been completed successfully and all consent forms have been signed and dated by both the participant and the consentor. The process is as follows:
The consent forms will be given to the subject
The consentor will review each section of the consent form to insure understanding, and answer any questions that may arise
Individuals also will be given the opportunity to discuss the study with their family/friends, or to think about it prior to agreeing to participate
Two copies of the consent form will be signed and dated by participant and consentor.
One copy will be kept in the participant's hard copy file, scanned for electronic warehousing, and maintained in separate locations and folders (hard or electronic) apart from other study data. The second copy will be given to the participant.
A participant may withdraw consent at any time throughout the course of the study.
A separate Campaign Committee Consent Form is administered to prospective Campaign Committee members prior to initiating the Campaign Committee Training.